S E L L   M Y   C A S I T A !

Copyright 2022      Love My Casita LLC / Eileen J Glick      All rights reserved

Your ONE-STOP SOURCE for finding a Casita travel trailer


Everything you need for Casita camping!

NEW SUBSCRIBERS . . .

GET A 7 DAY BONUS!

Only $5/month, and your first week is free!

Get access via email after your purchase is complete.

Cancel anytime. Sorry, no refunds for unused time.

TIRED OF LOOKING

FOR A CASITA?

SAVE YOURSELF TIME!

SELL MY CASITA is an interactive report

of all Casitas listed for sale in the U.S. & Canada

on FiberglassRV-4Sale and CasitaForum.

NEWEST LISTINGS AT THE TOP

SORTABLE COLUMNS BY YEAR, SIZE, MODEL, PRICE, & STATE

DESCRIPTIONS LINKED TO THE ORIGINAL CLASSIFIED AD

NOT READY TO SUBSCRIBE?

FREE ACCESS FOR 3 DAYS!

Just complete the form 

and you'll be sent an email link that'll 

take you right to the Daily Listings.

One free 3-day access per viewer.

DIDN'T FIND YOUR DREAM CASITA?

Plus, you'll get

7 MORE FREE DAYS!

Cancel anytime. 

Sorry, no refunds for unused time.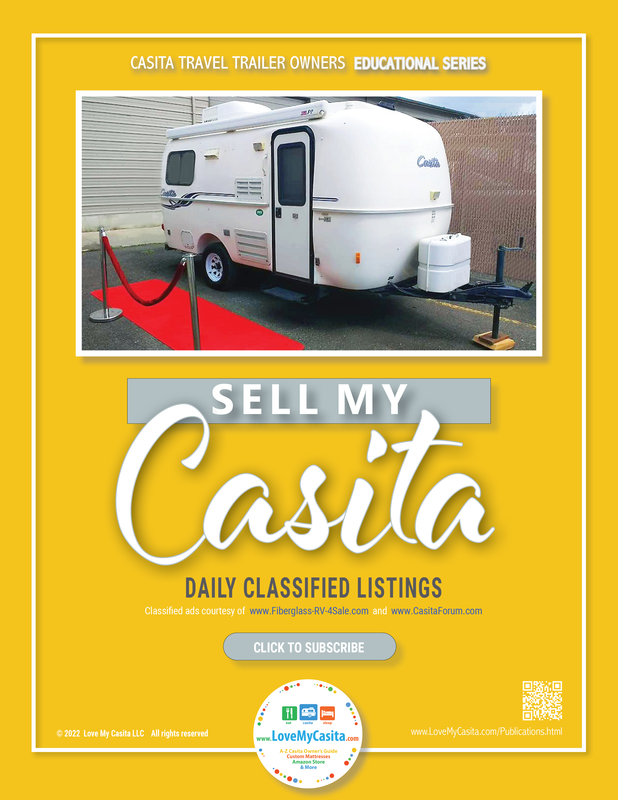 HOVER OVER or CLICK ON COVER

FOR SAMPLE LISTINGS VIEW


FIND AN ERROR?

HAVE A SUGGESTION?

LET ME KNOW!